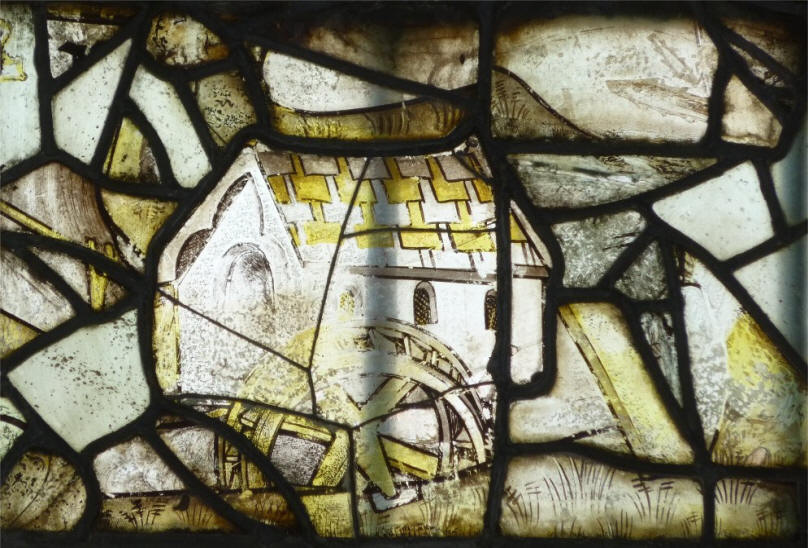 Part of a stained glass window in the Becket Chapel of Thaxted Parish Church, Essex, depicts an undershot watermill with its wooden waterwheel and wheelshaft resting in its bearing. The Becket Chapel was one of the last great building projects at the east end of the church and dates to late 15th century (about 1480) to early 16th century (about 1510). However the stained glass is earlier and was put into the Becket Chapel windows at a later date and may well have come from almost anywhere in the church, perhaps from earlier windows some of which were destroyed in the reformation and possibly in 1697 when the steeple fell down (due to a gale) and damaged the nave and north entrance.
The depicted watermill has a strong ecclesiastical appearance, with its tiled roof and what appears to be church style windows. Open fields surround the mill and what may be wheat can be seen growing in the foreground.
This portion of the stained glass window may well represent the medieval watermill that existed at Tilty Abbey which is just some 4 miles away. There was a very strong connection with the monks of Tilty Abbey during the early phases of the building of Thaxted Church. It is said that the monks conducted services there sometimes three times a day. It is possible that the route the monks took from Tilty Abbey to Thaxted Church was through the small hamlet of Monk Street, which is about halfway in distance between the two buildings.
Note, there is a derelict Victorian watermill in what were the Abbey grounds, this mill is thought to stand on the site of the medieval mill.
With thanks to Prof Colin Harrison, Ken Baker, and Maggie Catterall for their help. My image above is reproduced with the permission of Thaxted Parish Church.